The 2021 Subaru Love Promise Community Commitment Award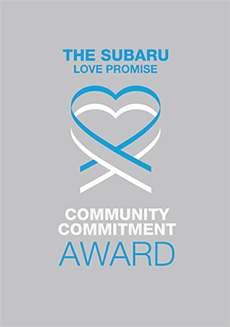 We've been nationally recognized for our dedication to our community and the Subaru Love Promise.
We're honored to receive the 2021 Subaru Love Promise Community Commitment Award. This award nationally recognizes Subaru retailers who are making the world a better place while demonstrating an outstanding commitment to supporting passions and causes in local communities. These efforts are focused in important areas such as the environment, community, health, education, and pets.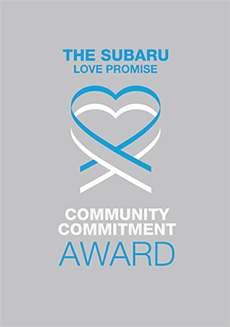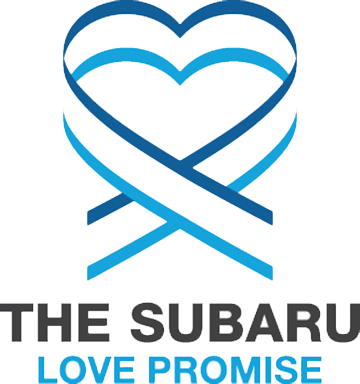 What is the Subaru Love Promise?
Subaru and our retailers believe in making the world a better place and the Subaru Love Promise is our vision of respecting all people. This is our commitment to show love and respect to our customers and to work to make a positive impact in the world.
How is Gallatin Subaru dedicated locally to the Love Promise?
Our Love Promise can be seen in various partnerships with local charities and non-profits. We're grateful for the opportunity, not only to be a part of our community, but to serve it as well.
Heart of the Valley Bozeman MT
Gallatin Solid Waste Management, Subaru Loves the Earth
Monforton School - Bozeman
Human Resources Development Council
Cancer Support Community Montana
Love Promise Stories from Gallatin Subaru
Subaru and Gallatin Subaru believe in making a positive impact on the communities in which we live and work. We uphold that belief through our Love Promise Community Commitment. Every month, we select inspiring stories from customers and partners from around our area who strive to support our collective commitment and feature them here
Supporting lost and homeless animals - Andrea L
Gallatin Subaru was a generous supporter of our 2nd Annual Open House on October 10, 2020. Contributing to the shelter but also generously handing out toys and supplies to visitors and new adopters. Heart of the Valley held an outdoor socially distanced open house with kids activities a photo booth and more. The animal shelter in Bozeman provides services for lost and surrendered pets in Gallatin and Madison counties. It's a safe place for animals who either need a new home or who are temporarily lost from their homes to come until they can either be adopted into that new home or be returned to their owner. In 2019, Heart of the Valley has found a home for more than 2300 animals, returned over 700 cats and dogs to their grateful owners and completed over 2000 surgeries in our vet clinic, including spay and neuter surgeries. Thank you Subaru and Gallatin Subaru for your ongoing support of animals.
---
Warming Center Blanket Donation - Tiffany F
As part of our commitment to the Love Promise, Gallatin Subaru scheduled a time to safely deliver hundreds of blankets to the Warming Center, a homeless shelter operated by the Human Resource Development Council (HRDC) here in our town of Bozeman, Montana. The staff at HRDC's Warming Center were so grateful for the donation, especially as we head into full-blown Montana winter!
---
Incredible Support of Reach, Inc. - Dee M
Just as the challenges and increased costs of covid-19 arrived in our area, Reach, Inc. received an incredible donation from Gallatin Subaru. During a time of difficulty, this gift brought hope that the 107 adults with developmental disabilities who receive Reach's residential, vocational, and transportation services could depend on kindness and support from the community, no matter what. Thank you, Gallatin Subaru, for your generosity to people with disabilities in our valley!
---
Good Neighbors - Nora M
In Montana, we drive. We drive a lot. It is not unusual for my family to drive six hours one way for a soccer game. So we drive Subaru's. Three out of my family's four cars are Subarus and always have been. When I purchased my most recent Subaru the salesman warned me about making sure I was getting into my own green Subaru in any parking lot, because there were just so many of them in our town. And I have climbed into another person's look-alike car- twice. Because of this, I think of Subaru as more of a neighbor, rather than a business or a brand. And our Gallatin Subaru dealership has earned the title of neighbor. They act like a good neighbor should in our community. They reach out and make an effort to support the people in our valley in ways that have nothing to do with selling cars. Most recently this was demonstrated by their donation of over a thousand dollars in books for our Monforton School library. Beautiful books on science topics, history, and the environment. On receiving this gift the children's eyes lit up in anticipation. They have already spent hours browsing the pages. Our Gallatin Subaru is a role model and all businesses should adopt and practice.
---
Heart of the Valley Open House - Andrea L
Gallatin Subaru was a generous supporter of our 1st Annual Open House on September 19th, 2019. Contributing $100 per adoption we did on that day and generously handing out boxes of toys and supplies to new adopters as well as fun toys to guests of the Open House. Heart of the Valley opened its doors for shelter tours, kids activities and half-price micro-chipping for cats and dogs. The animal shelter in Bozeman provides services for lost and surrendered pets in Gallatin and Madison counties. It's a safe place for animals who either need a new home or who are temporarily lost from their homes to come until they can either be adopted into that new home or be returned to their owner. This year, Heart of the Valley has found a home for more than 1800 cats and dogs and has cared for more than 3100 in the entire valley. Events from the open house included a dog treat making station and a K-9 patrol demonstration from the Gallatin County Sheriff's Office with five-year-old Belgian Malinois, Miles.
---
Mending in the Mountains - Becky F
Every year, Cancer Support Community Montana provides a retreat experience for 80 Montana women who have been diagnosed with cancer. This is a time that provides incredible healing, hope and an understanding that you are not alone in this experience. This retreat is held in the beautiful mountains of Montana in October when the weather can be brisk with fall weather. This year, Subaru provided 80 blankets so each woman could stay warm and cozy during this time together. We are grateful for your donation!!
---
Service and Parts Homerun - Don M
Hi Sean,So glad you contacted me. I just picked up my "newly tire-ed" 2014 Subaru Legacy yesterday and was pleased beyond expectation. I had been coming to Gallatin Subaru service department a few times over the last several months when the alert light illuminated on my dashboard. I had a tire puncture with a slow leak. Each time I visited the service department I worked with Mike. Mike was truly extraordinary from our first encounter (I have been a customer of Gallatin Subaru for four years) through yesterday. His level of communication, understanding and "customer's needs first," has been unwavering, no matter how big of an issue or how small. He truly lets you know / makes you feel that what your car needs / what you want is his #1 priority. Not only that, he has a fun personality that facilitates a more pleasant- than- one- would- expect for dealing with car issues. The leak in the tire was in a place that could not be patched (Mike took me to the car and showed me the area and then explained the challenge.) Mike checked the tread on all my tires and said the were all in good condition (I only have 30,000 miles on the car) and he could order a new tire shaved to the same tread depth as the remaining three, preventing me from having to order four new tires. I was impressed that such an option existed and more importantly that Mike presented that as an option as opposed to going straight to "well, your tires are five years old and you'll need new ones soon, so why not just get a new set?" Next I met with Steven in parts. Steven was great, too. He said he would order the tire and it might be in later that week (it was the week just prior to Labor Day) or more likely after Labor Day. Steven said they should be able to install it towards the end of Labor Day week. Well, that didn't happen. There were a series of "disappointments / failed promises from vendors" beyond Steven's control. Noting my frustration and the calendar, Steven asked if I wanted to order a new set of tires. I said, "yes." The tires came in when anticipated and I dropped off the car yesterday for the new tire installation. Liam called me when the car was ready. When I went to pay, Liam told me that there had been an accommodation made for all the delays and hassle I had encountered and I was not charged for the installation. This was on top of the "at cost" price Steven had given me for the new tires. Well, I have to tell you, I found all of that quite extraordinary and very, very much appreciated. As a rule (based on interactions in the past), dealerships don't show a lot of cost compassion and regularly have the highest prices for any kind of service / repair. To consistently get top notch customer service and fair pricing is most welcome and will keep me coming to Gallatin Subaru without hesitation. Suffice it to say that in my experiences, Gallatin Subaru truly shows the "LOVE PROMISE. "Please pass along my sincere thanks to your service team; they deserve that and more. Sincerely, [Customer Name]
---
Gallatin Subaru: Knows All About Love Promises - Leslie M
Why did Gallatin Subaru join the Bozeman Daily Chronicle in sponsoring A Montana Wedding Bridal Event in February 2017? How many bridal couples depart their wedding receptions in a Subaru? We can't say for sure, but Subaru does know about creating cars that protect valuable cargo, selling family cars, and even Love Promises. Year after year, the Subaru Outback is named a top family car for its spaciousness, comfort and safety. When it comes to protecting loved ones, there's safe, and then there's Subaru safe. Subaru's industry-leading safety innovations include all-wheel drive beloved across the Rockies for its abilities on wintry roads. Soon to be as popular is their two-year-old EyeSight® Driver Assist Technology that helps keep the car in its lane, optimizes cruise control and features pre-collision braking and throttle management to keep passengers safe. Finally, Subaru makes a Love Promise to every community the company is in. It's a pledge to do right by the community, to continue making a positive impact by giving back, volunteering and respecting all people. At Gallatin Subaru they promise to be honest, best in quality, service and price, and good citizens too. What makes a bigger community impact than two people pledging to love and respect each other for the rest of their lives? That's life-and world-changing. Subaru is delighted to support love and respect, the creation of new families and brides and grooms everywhere and here in Bozeman.
---
K9 Care Wounded Warriors - Lissa F
Gallatin Subaru recently sponsored the K9 Care Wounded Warrior Service Dog Program. I am constantly surprised by how much Gallatin Subaru does in our community. This was another wonderful event that raised money to help wounded warriors get paired with service dogs. These dogs become a comfort and friend to those who have given all to keep our country safe. It is in these gestures of generosity that Subaru performs that make me so proud to be a part of this community that gives so much to their neighbors. This is such a wonderful organization that helps our veterans and Subaru has shown time and again how much they support and help those who protect us. Thanks, Gallatin Subaru, for making a difference!!
---
Paws for Cancer - Lissa F
Gallatin Subaru sponsored the Bark for Life event this year, but they did so much more than just give money they gave heart!! They had picnic on the lawn, catch a rubber duckie for a prize, a bubble station, and a photo booth that all helped to raise money for the American Cancer Society!! They engaged with the community to gather lots of wonderful homemade items like blankets, hats, towel, lap blankets, as well as store bought items that were used to Fill a Subaru, which was then donated to the local Cancer Support Center! All of their hard work helped people to fight cancer through research as well as in our community and the individuals currently battling cancer. Money is a fantastic way to help a cause, but to see the dealership take a hands-on approach and make such a difference because of the people, that is what inspired me to write this Love Story! Thank you Gallatin Subaru you made a difference in the lives of our community!
---
Thanks Subaru! For Pet's Sake! - Daily Chronicle S
We all love our pets. That's where it started. How do you bring pet lovers together with businesses and organizations that provide pet products and services? You host a Pet Expo! That's exactly what The Bozeman Daily Chronicle did! On June 4, the For Pet's Sake: Bozeman Pet Expo was held at the Gallatin County Fairgrounds, with Gallatin Subaru as one of our Event Sponsors. There were info and sales booths, stage presentations, contests, drawings, treats and lots more for Bozeman area pet owners and dogs to enjoy! Gallatin Subaru brought two SUVs and invited pet lovers to fill them with pet products which were later donated to the pet rescue organizations Heart of the Valley and Tiny Tails K-9 Rescue. As expo attendees placed their donations in the SUVs they were given a ticket for a prize drawing. Every half hour at least two winners were drawn and called to the stage area to receive a basket full of pet products donated by Gallatin Subaru! Winners could hardly believe how fortunate they were to win such great prizes! The biggest winners, of course, were the pet rescue organizations. After the event they filled boxes with pet food, toys, carriers, leashes, etc., to take back to the shelters and put to good use! The Daily Chronicle thanks Gallatin Subaru for their generous support of the For Pet Sake: Pet Expo and making it possible for us to provide our local pet rescue shelters with much-needed pet food and products.
---
Butterfly Fun - Emily H
Out 1st graders at Monforton School would like to thank Gallatin Subaru for the butterfly gardens and butterfly habitat. The kids loved watching the insect lore turn into butterflies and setting them free. Thanks again for your continued support.
---
Our Bobcat's Love Gallatin Subaru - Nathaniel H
I would like to once again thank Gallatin Subaru for their ongoing support of Bobcat Athletics! This Crosstrek ROCKS!!! Get out their and support your Bobcats and Gallatin Subaru.
---
Showroom Wildlife Habitat - Matt M
When it comes to be a hero, you find them in the most unlikely spots. It would be hard to believe there is a complete Certified Wildlife Habitat right in the middle of the Gallatin Subaru Showroom! Complete with Milkweed packs to help preserve the Monarch Butterfly. Bring the kid and they get a Ranger Rick booklet to note the great outdoors.
---
Thank You For All Your Community Involvement - Cristin P
While I was sitting in the Gallatin Subaru lobby waiting for my car to be serviced with my little one coloring away, I witnessed something that made my heart so happy. I saw the check from Gallatin Subaru being handed over to the Gallatin Valley Land Trust. I also had watched the news this morning and saw the announcement on the television so I was already aware of what was going on, just seeing it happening put a smile on my face. This makes me love this local business even more than I already do, and why? They've been promoting so many great things for our local community since they have opened their doors. From helping schools to helping build parks and trails that better the area even more than what it already is, that is just so fantastic to me. It really makes me proud to be able to say I'm from such a great community driven area, and I'm proud to be able to raise my children in such a continuously improving area. Thank you Gallatin Subaru, I am looking forward to taking my little girls and furry friends to the new establishments Gallatin Land trust has been working on! Crissy P.
---
Gallatin Subaru Protects Quality of Life! - EJ P
The Gallatin Valley Land Trust is grateful for the donation from Gallatin Subaru. GVLT protects the quality of life in the valley by protecting open spaces, working farms, and ranches and wildlife habitat. We also safeguard our ability to get outside by building and expanding the trail system, Main Street to the Mountains. This donation will support the construction of trails and a playground at the expansion of Bozeman Pond Park. This 9 acre green space will be enjoyed by Bozeman families for years to come! Thank you Gallatin Subaru for caring about our community! Keep track of the project on www.gvlt.org
---
Showroom Wildlife Habitat - Matt M
When it comes to be a hero, you find them in the most unlikely spots. It would be hard to believe there is a complete Certified Wildlife Habitat right in the middle of the Gallatin Subaru Showroom! Complete with Milkweed packs to help preserve the Monarch Butterfly. Bring the kid and they get a Ranger Rick booklet to note the great outdoors.
---
Thank you! - Shellie A
We were in the market for a new car, but were just browsing and had already visited other dealerships. We came into Subaru without anything specific in mind, and from the moment we walked in the door, everyone was beyond welcoming and accommodating. After picking out a car that was perfect (based on our preferences), the whole team pitched in to figure out payments and a lease plan that would work for us. Everyone's efforts made the process easy and stress-free. Every single person we dealt with through the process was kind and considerate. I can honestly say I have never had an experience like this at other dealerships in the past, and cannot express my gratitude enough to Gallatin Subuaru!
---
Above and Beyond - Kara N
Dear Subaru of Bozeman, Thank you! Thank you! I can't express how MUCH I appreciated the donated supplies and money. Every single pack of pencils, box of crayons, pad of paper, and box of Kleenex will be put to very good use! Also, I'm so excited to purchase some hands-on manipulative son line. Your contribution to our classroom will undoubtedly lead to higher student engagement! Thank you for going above and beyond...and thank you for making a difference in the Bozeman community. Kara Nelson Meadowlark Elementary
---
Kara Nelson-Meadowlark Elementary School - Pam P
We are proud to announce that we have adopted Mrs. Kara Nelson for our classroom donations. Kara is a 5th grade teacher at Meadowlark Elementary School. Join us in partnering with Kara's classroom and insure students have what they need to succeed!
---
Giving Back To The Community - Matt S
We want to thank Gallatin Subaru for their generous donation to the Gallatin Chapter of Meals on Wheels. The food and donations are greatly needed. Thank you again for your support.
---
4th Annual Gallatin Valley Law Enforcement Ride - Barb R
We at Yellowstone Harley-Davidson would like to thank the wonderful people at Gallatin Subaru for their very helpful donation to support our local troops. Best of Luck to you and thank you!
---
Thanks For The Experience - Sparkie L
When I finally decided to purchase a new car, I vacillated between several all wheel drive vehicles. After visiting these various dealerships, and researching each vehicle from the comforts of my home, I went back and revisited two cars that caught my attention. After a much more educated understanding of the history, mechanics, crash tests, and mileage performance of each vehicle, I leased a new car from Bozeman Subaru. My experience there was amazing. The sales force, the service department, my salesman, and the owner of the dealership were professional, warm, friendly, and above all, worked with me for days on end without ever making me feel anything but special. I love my new car, and I look forward to enjoying many more years of working with this retailer as an outstanding business within my community. Thank you for making me feel so welcomed into the Subaru family of ownership.
---
Thanks for the Support - Pam P
We would like to thank Gallatin Subaru for their generous donation to our organization. It is greatly appreciated in our community.
---
We Love Our Bobcats! - Matt M
Kellee Barney the headcoach at MSU was so excited when she received the her Subaru Outback. It is a great addition to the team!
---