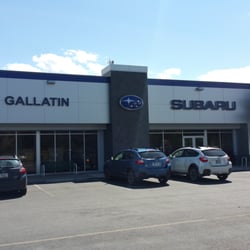 Have you been searching for a Subaru dealer near Belgrade, MT? Gallatin Subaru is conveniently located on I-90, close to Belgrade. We have an extensive inventory of Subarus to choose from and our staff will make sure they help you find just the right one. Our many loyal customers will tell you that we offer unprecedented service and quality vehicles that are perfect for your Montana lifestyle. Stop by Gallatin Subaru today! We are excited to start working for you.
Subaru Impreza Near Belgrade, MT
If your search for a compact sedan with winter weather capabilities has come up short, we have an answer for you. The Subaru Impreza! The Impreza is a sporty sedan that comes equipped with All-Wheel Drive. Montana winters are no problem for this vehicle. It can get you up to the mountains, or out to the rivers with ease. Of course, it is also fuel-efficient and a great value. The Impreza is also known for its durability. We would love to show you this great sedan at Gallatin Subaru.
Subaru Outback Near Belgrade, MT
If you're looking for a little more space for some of your gear, or need some extra cargo space for your pets, or your kids' sporting equipment, the Subaru Outback would be a great choice. The Outback is a wagon that comes with standard All-Wheel Drive, so it can handle all sorts of road conditions in all seasons. The extra space in the cargo area provides ample room for all of your stuff. Come and see why the Subaru Outback is one of our most popular vehicles at Gallatin Subaru!
Subaru Forester Near Belgrade, MT
And finally, if it's a compact SUV you're after, then the Subaru Forester is a great pick. With plenty of space for people and for all of their things, the Forester has lots of cargo area to work with. It has All-Wheel Drive to get you wherever you need to go. The
Forester is a fun SUV to drive with great handling and awesome features. Take a look at the Subaru Forester at Gallatin Subaru near Belgrade, MT.
Other Subaru Near Belgrade, MT

Legacy
Crosstrek